News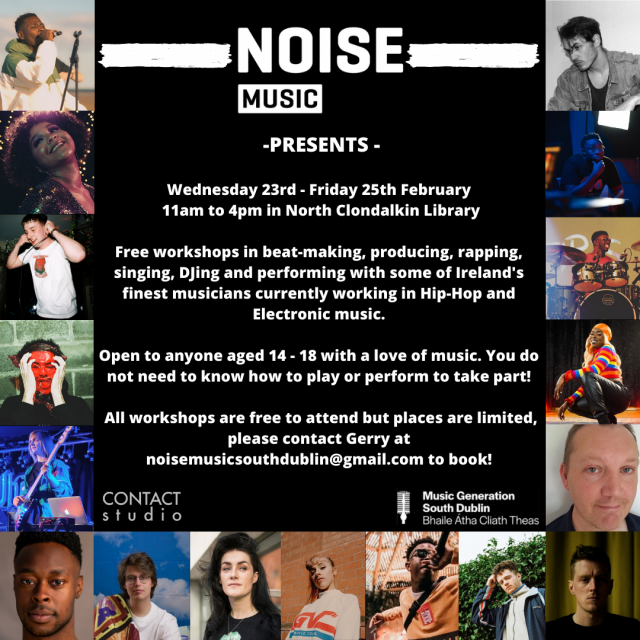 Monday 7th, February, 2022
NOISE Music in 2022
2021 was a busy year for NOISE Music, and it doesn't look like slowing down any time soon! DJing, beatmaking and songwriting workshops are happening every day in schools and community centres all over South Dublin County. NOISE Music hubs have been established in North Clondalkin; Lucan; and Tallaght; and a fourth will be added in Rathcoole in March. In these hubs, workshops will be taking place throughout the school year, with additional events and projects taking place during mid-term breaks and summer holidays.
There's also a major event happening in North Clondalkin Libary during the February mid-term break. It's called NOISE Music Presents: and it features a live Q&A hosted by Max Zanga featuring Gemma Dunleavy, Joel Safo (A92 Collective), and MayKay, on Tuesday 22nd Feb followed by a live music production demonstration.
We then have 3 days of beatmaking, songwriting and DJing workshops from 23rd – 25th February which you can sign up for here. It's a chance for young people who love music to collaborate with and learn from some of the most exciting musicians working in Irish Pop, Hip Hip and Electronic music.
NOISE Music will also be introducing a new DJ Programme later this year, which will provide opportunities for young people to have their mixes heard on digital radio. There will also be opportunities to learn about running and promoting events, with NOISE Music participants performing live DJ sets around the county later this year.
They will also be releasing their first music this summer, details of the first NOISE Music album and launch will be announced in March! There will be several live performances too, keep an eye on their socials for news of these as they are announced...